OUR NEW CITIZENSHIP 2.0 IS NOW AVAILABLE IN 29 LANGUAGES INCLUDING: Amharic, Arabic*, Cambodian, Cantonese*, Farsi, French, German, Haitian-Creole*, Hebrew, Hindi*, Hmong, Indonesian, Italian, Japanese, Korean, Laotian, Mandarin*, Polish, Portuguese, Punjabi, Russian*, Serbo-Croatian, Somali, Spanish*, Tagalog*, Thai, Urdu, Vietnamese* and English Only.
This colorful INTERACTIVE DVD provides all of the answers to the most difficult questions likely to be on the NEW citizenship test! Those with an asterisk* have a choice of subtitle languages on the menu. The others have spoken translation of the difficult words. Any plan for immigration reform will require applicants to speak enough English to pass the citizenship test.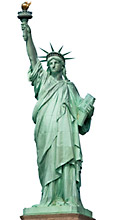 The original Citizenship Interactive DVD was given the U.S. International Silver Screen Award in 2003. This newer, longer version has better visual and audio quality, clearer captions and more content. It is in a wide screen format with three professional narrators.

This is an easy and fun way to study the history and government of the United States. It may be played on any DVD player or on a computer. Short quizzes are interspersed into the video at regular intervals. They are multiple-choice and the learner may choose the answer using a remote or mouse. The wrong choice will automatically take the viewer back to the place in the video where the correct answer will be seen. Then the learner is given another chance to make the right choice.